The Children's Literature Assembly, an affiliate of the National Council of Teachers of English, has selected thirty notable titles every year since 1997. The
2012 Notable Children's Books in the English Language Arts
were announced last week. It is an impressive list that will appeal to grades K-8.
The charge of the seven-member national committee is to select thirty titles each year that best exemplify the criteria established for the Notables Award. Books considered for this annual list are works of fiction, non-fiction, and poetry written for children, grades K-8. The books must meet one or more of the following criteria:

deal explicitly with language, such as plays on words, word origins, or the history of language;
demonstrate uniqueness in the use of language or style;
invite child response or participation. In addition, books are to:
have an appealing format;
be of enduring quality;
meet generally accepted criteria of quality for the genre in which they are written.
*********************************
A Butterfly Is Patient. By Diana Hutts Aston, illustrated by Sylvia Long. Chronicle Books, 2011. Grades K-4.
The creators of the award-winning An Egg Is Quiet and A Seed Is Sleepy have teamed up again to create this gorgeous and informative introduction to the world of butterflies. From iridescent blue swallowtails and brilliant orange monarchs to the worlds tiniest butterfly (Western Pygmy Blue) and the largest (Queen Alexandra's Birdwing), an incredible variety of butterflies are celebrated here in all of their beauty and wonder. Perfect for a child's bedroom bookshelf or for a classroom reading circle!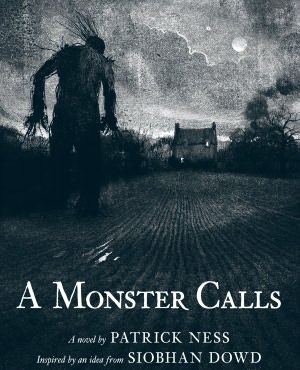 A Monster Calls
. By Patrick Ness. Candlewick, 2011. Grades 7 and up.
At seven minutes past midnight, thirteen-year-old Conor wakes to find a monster outside his bedroom window. But it isn't the monster Conor's been expecting-- he's been expecting the one from his nightmare, the nightmare he's had nearly every night since his mother started her treatments. The monster in his backyard is different. It's ancient. And wild. And it wants something from Conor. Something terrible and dangerous. It wants the truth. From the final idea of award-winning author Siobhan Dowd-- whose premature death from cancer prevented her from writing it herself-- Patrick Ness has spun a haunting and darkly funny novel of mischief, loss, and monsters both real and imagined.
Patrick Ness talks about the inspiration for A Monster Calls.
Addie on the Inside. By James Howe. Atheneum, 2011. Grades 6 and up.

The Gang of Five is back in this third story from Paintbrush Falls. Addie Carle, the only girl in the group of friends is outspoken, opinionated, and sometimes…just a bit obnoxious. But as seventh grade progresses, Addie's not so sure anymore about who she is. It seems her tough exterior is just a little too tough and that doesn't help her deal with the turmoil she feels on the inside as she faces the pains of growing up.
Amelia Lost: The Life and Disappearance of Amelia Earhart. By Candace Fleming. Schwartz & Wade, 2011. Grades 5 and up.
About the book:
Travis Jonker and I named Amelia Lost a best book of 2011.
Amelia Earhart had been resting pretty comfortably under the patina that American folk legends tend to acquire. Years of having her story boiled down to a groundbreaking pilot meets mysteriously tragic end" left us with a need for further exploration. Leave it to Candace Fleming, the preeminent nonfiction writer for young people, to bring the elbow grease. In Amelia Lost, she turns over more stones and produces better results than any Earhart bio you can name. The most insightful and whole picture of this American pioneer young readers have ever seen. -Travis Jonker
Download the Amelia Lo
st
group discussion guide.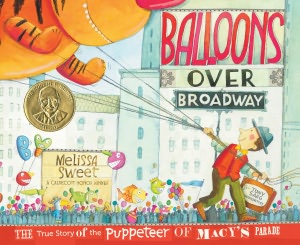 Balloons over Broadway. Written and illustrated by Melissa Sweet. Houghton Mifflin, 2011. Grades 1-5.
Everyone's a New Yorker on Thanksgiving Day, when young and old rise early to see what giant new balloons will fill the skies for Macy's Thanksgiving Day Parade. Who first invented these "upside-down puppets"? Meet Tony Sarg, puppeteer extraordinaire! In brilliant collage illustrations, the award-winning artist Melissa Sweet tells the story of the puppeteer Tony Sarg, capturing his genius, his dedication, his zest for play, and his long-lasting gift to America—the inspired helium balloons that would become the trademark of Macy's Parade.
Put on your own finger puppet parade.
Bluefish. By Pat Schmatz. Candlewick, 2011. Grades 7 and up.
Thirteen-year-old Travis has a secret: he can't read. But a shrewd teacher and a sassy girl are about to change everything in this witty and deeply moving novel.
Travis is missing his old home in the country, and he's missing his old hound, Rosco. Now there's just the cramped place he shares with his well-meaning but alcoholic grandpa, a new school, and the dreaded routine of passing when he's called on to read out loud. But that's before Travis meets Mr. McQueen, who doesn't take "pass" for an answer—a rare teacher whose savvy persistence has Travis slowly unlocking a book on the natural world. And it's before Travis is noticed by Velveeta, a girl whose wry banter and colorful scarves belie some hard secrets of her own. With sympathy, humor, and disarming honesty, Pat Schmatz brings to life a cast of utterly believable characters—and captures the moments of trust and connection that make all the difference.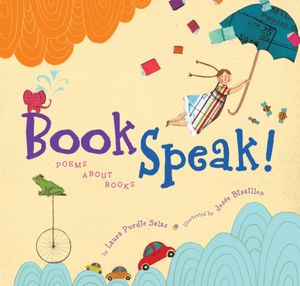 BookSpeak: Poems about Books. By Laura Purdie Salas, illustrated by Josee Bisaillon. Clarion, 2011. Grades 2-5.
Laura Purdie Salas, the acclaimed author of Stampede!, is back with another collection of wild and weird, wacky and winsome poems about all the magic to be found on a single bookshelf. In BookSpeak!, each poem gives voice to a group that seldom gets a voice . . . the books themselves! Characters plead for sequels, book jackets strut their stuff, and we get a sneak peek at the raucous parties in the aisles when all the lights go out at the bookstore!Illustrator Josée Bisaillon's mixture of collage, drawings, and digital montage presents page after page of richly colored spreads filled with action and charm. Together, Salas and Bisaillon deliver a unique collection brimming with ideas as much about spines and dust jackets as they are about adventure and imagination.
Breadcrumbs. By Anne Ursu. Walden Pond, 2011. Grades 4-7.
Travis Jonker and I named Breadcrumbs a best book of 2011.
I believe I gathered enough evidence to conclude with confidence that the world adores Anne Ursu's Breadcrumbs.
Publishers Weekly starred review

Bulletin for Children's Books starred review

School Library Journal starred review

Kirkus Review starred review

Book jacket blurbs written by Newbery Honor recipients Gary Schmidt and Ingrid Law

It appears on multiple Mock Newbery lists.

It is NPR's December Kids' Book Club pick.

School Library Journal, Publishers Weekly, and Amazon named it a best book of 2011.

Author Laurel Snyder promoted it on Twitter.

I spend a lot of time reading in restaurants, bookshops, and coffee shops. I love when strangers ask me what I'm reading. I was eating a grilled chicken sandwich in the Minneapolis-St. Paul International Airport when my server asked, "What's Breadcrumbs?" Don't expect two or three words when you ask a librarian about what he's reading. I told her all about the struggle between best friends Hazel and Jack, and how it is a modern-day fairy tale inspired by The Snow Queen. She said it sounded like a book her niece would like. I gave her my copy. That's what we do with beautifully written and captivating books, right? We pass them along.

We think it's a best book of the year.
Download the Breadcrumbs discussion guide.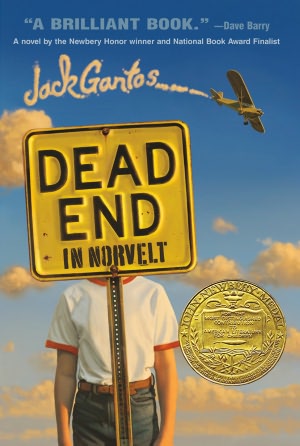 Dead End in Norvelt. By Jack Gantos. Farrar, Straus and Giroux, 2011. Grades 5 and up.
Melding the entirely true and the wildly fictional, Dead End in Norvelt is the story of an incredible two months for a boy named Jack Gantos, whose plans for vacation adventure are suddenly ruined when he is grounded by his feuding parents for what seems like forever. But escape comes where Jack least expects it, once he begins helping an elderly neighbor with a most unusual chore—a chore involving the newly dead, molten wax, twisted promises, Girl Scout cookies, underage driving, lessons from history, obituaries, Hells Angels, and countless bloody noses. Endlessly surprising, this sly, sharp-edged narrative is the author at his very best, making readers crack up at the most shocking things in a depiction of growing up in an off-kilter world where the characters are as unpredictable and over-the-top as they come.
"I think for kids there is a huge blind spot. What's tomorrow going to be like?" -Jack Gantos
Jack Gantos thanks the 2012 Newbery committee.
Becky Anderson sits down with Jack Gantos.